The Messengers Podcast
The Messengers is a documentary about podcasting. This podcast is the inside stories about the documentary. Yes we know, a podcast about a movie about podcasting. Hear about the stories that are changing lives, that inspire people to sacrifice to get the word out. What's your message?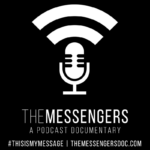 In this first episode you'll earn about the power of podcasting being a global audience. You'll hear how a small idea about a podcasting event in Florida grew to be...